Acupuncture New York, NY
Acupuncture is a practice that goes back thousands of years, proven by practitioners to be beneficial for a long list of conditions and illnesses. Traditional Chinese Medicine (TCM) has four main branches, or categories. These are medical massage, chinese herbology (which includes nutrition), acupuncture and beneficial exercise. Acupuncture in NYC is becoming one of the most accepted forms of Chinese treatment by Western medicine and is gaining in popularity. Dr. Steven Schram, an acupuncturist in nyc, is one of the leading experts in this field in the Northeast, having trained and gained clinical experience in California, a state with some of the most stringent requirements for licensing.
As an acupuncturist in NYC, Dr. Steven Schram has successfully treated hundreds of patients suffering from conditions such as joint pain, arthritis, sciatica, back, shoulder or neck pain, migraines–even allergies. He can also treat many stress and diet related issues such as constipation, insomnia, and food and cigarette addictions. Acupuncture is a fantastic, all natural way to treat illness and troublesome conditions, one that will help your body to begin to heal itself, which is the best road to wellness.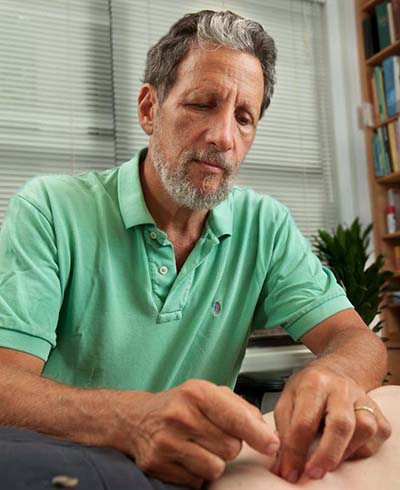 Many of the methods and treatments in TCM are done in conjunction with acupuncture therapy for maximum benefit. The goal for all treatments in TCM, especially acupuncture treatment is maintaining health and wellness by establishing the perfect flow of qi, otherwise known as "life force" or "life-energy," throughout the body. According to Chinese medicine, there is a complex system of meridians, a pathway through which a person's qi flows. Along this meridian there are approximately 200 "points," areas along the meridian that can become blocked, or "cold" which stops the qi from flowing. These kinds of blockages have been proven to lead to all sorts of illnesses, disease, toxin build-up and other physical and emotional problems.
Acupuncture, along with practices such as Tui Na, Qigong, Cupping, Moxibustion and Gua Sha are very specialized treatments that require in-depth training. While most, if not all states require acupuncturists to pass an National Accreditation Exam to receive a license, states vary in terms of the number of years of education required and the number of clinical hours required. California, for instance requires a full four years of education and clinical hours in all these practices, totaling 2300 hours of education. Some states only require 1350 hours of training.
Acupuncture New York NY – Dr. Steven Schram Call 646-736-7719
Acupuncture is the perfect treatment if you have an unresolved health issue which has gone on for too long. The practice is quickly gaining recognition as a treatment option that works for many, many troubling issues and conditions. However, the use of this practice for healing is too limiting. Chinese medicine has long held the correct view that the primary function of this therapy is to prevent illness and conditions before they become serious problem. This is a shift in thinking that many Americans need to make.
Acupuncture in New York has been highly successful in treating many conditions which tend to be psychological AND physical, such as helping with weight loss, quitting smoking and serious pre-menstrual conditions. Staying away from TCM treatment options because they seem "mysterious" is short sighted. This simple, straightforward medical procedure has been in use for thousands of years, and has brought healing and a profound sense of wellness and balance to millions. Call Dr. Steven Schram today at 646-736-7719 for an acupuncture consultation and take your first step to complete wellness.
Dr. Steven Schram provides Acupuncture services for patients from these NYC neighborhoods: Manhattan, NYC, Midtown NY, Battery Park City NY, Financial District NY, TriBeCa NY, Chinatown NY, Greenwich Village NY, Little Italy NY, Lower East Side NY, NoHo NY, SoHo NY, West Village NY, Alphabet City NY, Chinatown NY, East Village NY, Lower East Side NY, Two Bridges NY, Chelsea NY, Clinton NY, Gramercy Park NY, Kips Bay NY, Murray Hill NY, Peter Cooper Village NY, Stuyvesant Town NY, Sutton Place NY, Tudor City NY, Turtle Bay NY, Waterside Plaza NY, Lincoln Square NY, Manhattan Valley NY, Upper West Side NY, Lenox Hill NY, Roosevelt Island NY, Upper East Side NY, Yorkville NY, Hamilton Heights NY, Manhattanville, Morningside Heights NY, Harlem NY, Polo Grounds NY, East Harlem NY, Randall's Island NY, Spanish Harlem NY, Wards Island NY, Inwood NY, Washington Heights NY