Dr. Steven Schram is a chiropractor and acupuncturist in New York, NY. In this video, Dr. Schram demonstrates how stretching the thighs can alleviate low back pain.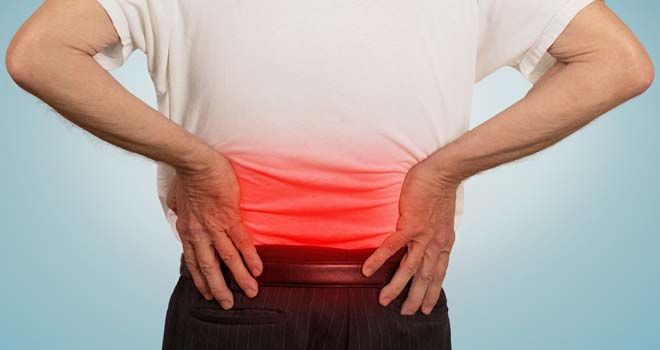 Tension in the thighs, this part of your body is often associated with back pain because it pulls us forward, and there's a counter tension in the back. This is not where most people have a complaint about a problem, but it's often part of its solution. I'm going to show you a couple of very simple thigh stretches that you can try at home. Maybe you'll find some relief to both your tension in your leg and tension in your back.
The first one is sitting on your heels. I know a lot of people can't get to sit on their heels. If you can't, put a towel or a pillow underneath. If you can sit on your heels, do so, and then stretch back and lift your pelvis.
A variation on that is to spread your feet wide. Sit in between your feet. A trick is to move your calf muscle out of the way and then lean back again, again lifting your pelvis. Breathe in and breathe out. Come down, come forward.
A variation on that, which is maybe even simpler for some folks, is you lie on one side. I'm going to stretch my top leg. I'm going to grab my ankle, and I'm just going to pull it back, and as I do that, I'm moving my pelvis forward. I can straighten my bottom leg, but the key is to stretch it. Breathe in and breathe out. Stretch back. Arch back. Breathe in and breathe out and then come back to neutral.
Again, whatever you do on one side, make sure you do on the other. Hope to see you in my office soon.
Schedule an Appointment with Dr. Schram
Learn more about how Dr. Schram treats low back pain by visiting the website for the practice (https://drstevenschram.com/). Patients who want to schedule an appointment should call (646) 736-7719.