Gua sha Manhattanville NY
One technique used by many practitioners across the globe including Dr. Steven Schram in Manhattanville NY is gua sha, a form of acupuncture therapy that involves light, strategic bruising. The skin is scraped in an attempt to release those unhealthy elements hidden in the skin and to encourage healthy blood flow and flow of qi, or "life force".
Traditional Chinese Medicine, a medical system that has an incredible history spanning over two millennia, incorporates a wide number of strategies and treatments, many of which have grown in popularity in recent years due to their ability to naturally address issues that would otherwise be treated with surgical procedures and over the counter medications that often fail to treat the underlying problem and/or result in unwanted side effects and consequences.
The purpose of East Asian medicine is to harness natural methods that incorporate ancient techniques with more modern technologies and methods in order to provide patients with the treatments they need. The goal is to work with modern medicine when needed and to take every opportunity to avoid more "drastic measures" and instead work with the patient to develop more natural healing treatments. Dr. Steven Schram, as a medical practitioner who is well versed in virtually all aspects of TCM, has become a well-deserved authority on the topic.
How is Gua sha Manhattanville NY Performed?
There are many methods by which the technique can be performed. For example, the Vietnamese routinely use oil balm and a coin to cause the scraping. It is believed to have many health benefits and is used in countries like India to reduce fever. Wherever the method is performed, the process is similar. It involves the use of repeated strokes using a smooth instrument such as a coin or spoon on the lubricated skin. Often, massage oil is the preferred medium, especially in the modern age, as it is readily accessible in most clinics and medical practices.
During the treatment, the smooth edge of the instrument is placed against the skin and the practitioner places pressure while moving the instrument down the muscles and acupuncture meridians along the skin's surface. Each stroke will often be between four to six inches long and will be repeated several times over the body. The result is an appearance of very light bruising and discoloration of the skin which causes minimal discomfort and goes away after a short period of time.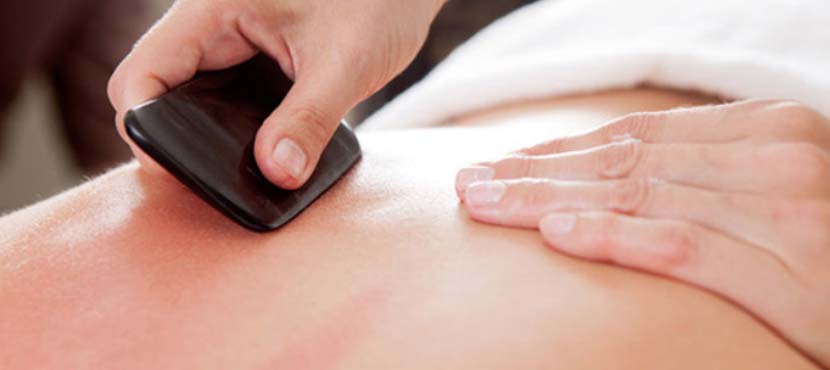 Gua sha Treatment with Dr. Steven Schram – Call 646-736-7719
Continued Research about Gua sha Manhattanville NY
In China, this technique has widespread use for treating all manner of issues, ranging from inflammatory bowel disease to hepatitis. The treatment has also been used to combat other ailments such as headaches, migraines, mastitis, and neuralgia as well as neck, shoulder, back, and knee pain.
While there has been little formal research into the benefits of this type of East Asian medicine, continued research hopes to yield more information on this method's impact on pain management and the treatment of other issues and conditions, especially those involving chronic pain.
However, some studies have shown Gua sha in Manhattanville NY to be incredibly helpful in a number of situations. One study showed that the treatment encouraged a dramatic improvement in the circulation of the patient's blood. This alone indicates a potentially large number of positive health benefits including use as an anti-inflammatory treatment and as a way to boost the health of the immune system. While there is no denying that more research is needed, the information gathered thus far has shed significant light on the many possible benefits of pursuing this form of treatment.
Gua sha Manhattanville NY Treatments with Dr. Steven Schram
If you're tired of using the same old medications and treatments and you're looking for an alternative that may give you the results you need without the need for surgeries and expensive medications, give the office of Dr. Steven Schram a call.
As a licensed acupuncturist and chiropractor with over 30 years of experience helping patients in the Manhattanville NY area through his use of acupuncture, spinal adjustments, and other traditional East Asian medicine treatments such as Gua sha, Tui-na, and the like, Dr. Steven Schram has truly made a name for himself in the alternative medicine community.
His experience and education have been extensive, and his knowledge is truly unparalleled. With his Ph.D. in chemistry and his knowledge of Traditional Chinese Medicine including nutrition and herbology, he's well equipped to help patients of all ages to not only address certain conditions and issues with which they're currently living, but also to help prevent other issues from occurring.
His approach to treatment is kind and welcoming, and he makes sure to put all patients at ease whether it's their first experience with alternative therapies or their hundredth. Don't hesitate to take concrete steps towards a healthier you; contact the office of Dr. Steven Schram today to schedule a consultation with this esteemed medical provider.
More about all of the chiropractic appointments which Dr. Schram provides.