Traditional Chinese Medicine, which includes Acupuncture, has been used for thousands of years, first in ancient China and now throughout the world. The thought was to use all-natural methods as a means of both preventing and treating health issues in patients. Today, many people in the United States and abroad pursue these techniques as a means of complementing their other health care regimens.
Begun over 2,500 years ago, this form of medicine was based on the Taoist philosophy. It was believed that the human body was essentially a smaller version of the universe around us, and that harmony within that body was required in order to maintain and restore good health. When an imbalance occurred between the forces of yin and yang, the result would be disease. Along with these two complementary forces, the body's function and human life in general was also affected by the five elements, namely earth, fire, wood, water, and metal. The Qi, or life force, requires balance of these elements and inner harmony in order to flow freely and to perform the necessary functions within the body. In short, Traditional Chinese Medicine was the form of medicine created to combat these imbalances and to restore the healthy flow of Qi within the patient.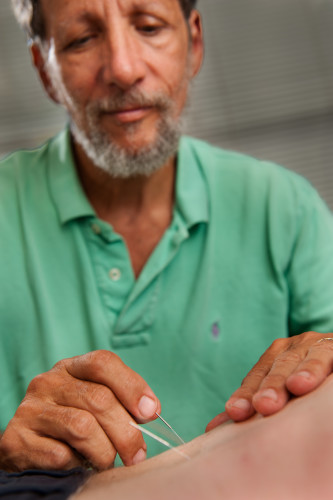 Traditional Chinese Medicine is a broad term that includes a number of different techniques: acupuncture, herbal medicine, tui na massage, diet adjustments, tai chi and qi gong, as well as moxibustion, which is essentially the burning of special herbs over a specific area of the body. These techniques can be used alone or in conjunction to treat a patient's particular issue or illness.
Dr. Steven Schram is a noted practitioner of TCM. Along with his ability to diagnose an array of different imbalances in his patients, Dr. Schram is also able to craft personalized treatment plans, consisting of acupuncture, qi gong, herbal medicines, chiropractic techniques, and related treatments. These therapies are designed with the ultimate goal of restoring the individual's health and vitality.
Dr. Steven Schram is not only an accomplished acupuncturist and chiropractor, but he also has his Ph.D. in chemistry. Additionally, he's done extensive study in the field of Chinese medicine and herbology. He believes that modern medicine and TCM both play a crucial role in health care, and he makes it a point to stress the importance of balance to each patient who pays him a visit. Under his care, many patients have reported a dramatic improvement in their symptoms as well as long-term relief.
If you've been living with discomfort and pain or you wish to find a non-invasive, natural means of preventing health concerns, Dr. Steven Schram is here for you. Contact his office today to schedule an acupuncture appointment.