Acupuncture Promotes Healthy Sleep Without Medication
Sleep is something we can't live without and something that is sorely lacking from the lives of many. Even when your busy day is over and you're lying in bed, stress and worries can fill your mind, making it almost impossible for you to fall asleep.
Lack of sleep is more than just frustrating; it's a vicious circle. While it's true that stress can cause insomnia, continued sleeplessness can actually increase your stress levels as well. In fact, a lack of sleep has been definitively linked to an increase in stress hormones, including cortisol and adrenaline. Known for causing both anxiety and aggression, these hormones can also lead to other detrimental health effects, including high blood pressure, weakened immunity, as well as weight gain. In turn, these issues can lead to troubles at work, relationship problems, poor judgement, loss of impulse control, and even automobile accidents.
Insomnia has become a widespread problem, affecting people of all ages. If you're one of the many individuals who struggles nightly to get the sleep you need, you may be wondering about your options. While medicinal sleep aids are certainly available and helpful to some degree, many are associated with side effects that may prove worrisome. Fortunately, another option may be available to you.
Traditional Chinese Medicine, or TCM, has held the belief that sleep is essential to the body's function. It was long believed that insomnia indicated an imbalance in a person's Zang, or heart. To combat this imbalance, TCM practitioners would use acupuncture. Unlike other options, acupuncture does not involve the use of medicines that could cause unwanted issues for the patient. Not only was acupuncture used to address the sleep disorder itself, but it was also used to improve overall wellness and harmony within the body.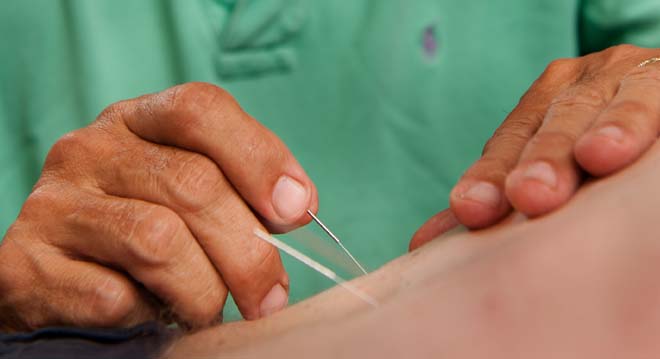 Acupuncture is a minimally invasive procedure that utilizes a series of fine needles that are placed in strategic areas of the body. These needles serve as conduits through which energy travels, allowing the Qi to flow more freely and to balance the mind, body, and spirit. The desired end result is improved physical, mental, and emotional health.
There is no one-size-fits-all approach to natural medicine. For the most part, practitioners of acupuncture must use their judgment when treating sleep disorders and other issues. What may work for one individual may not work for another. Each body and person is different, and that's a fact that natural medicine has always respected and understood. By taking the patient's particular situation and body into account, the acupuncturist can use their tools to target that person's specific problems. The goal of acupuncture is to combat the sleep disorder, heal the insomniac, and restore health and wellness to each individual.